News
---

Join us for a tax webinar! Register at bit.ly/ucsctax21. A recorded session with captions in English and Spanish will be available on Youtube after the webinars. Please email slugcents@ucsc.edu with any accommodations or questions.
---
SlugCents Logo Contest
Student Business Services' new financial literacy program, SlugCents, needs a logo. This logo will be used in branding for the financial literacy program on all web and print media. We are inviting all UCSC students to enter into our logo design contest. Awards will be given to the top three designs.
The logo should be representative of UCSC and it's values. Incorporating images such as the banana slug or financial elements is suggested but not required. We encourage creativity! Below are some examples of financial wellness logos and UCSC logos for inspiration.

Image Descriptions: Monarch Millionaire logo, Boiler Financial Track logo, Fiat Slug logo, UCSC Astrophysics logo, UCSC Animation Club logo
Contest Rules: 
The contest will run from 10/1/2020 to 10/23/2020. 

Entries will be submitted to a Google Form. Submit your entry here.

Only one entry per student will be accepted.

Entrants must be current UCSC students.

All entries must be school appropriate, with no foul language or depiction of drugs, alcohol, or illegal activities. 

Vector images are preferable for submission. If the 1st place logo is not in a vector format at the time of submission, Student Business Services will ask for access to the original image files to create a vector image. 

After the submission portal is closed, the judging committee will take one week to review the entries and choose the top three winners. 

The judging committee and SlugCents reserve the right to not use any entries for the SlugCents logo if they do not deem the winning entries appropriate for SlugCents.

The three winners will be notified by email of their prize and how to collect it. 

The 1st place winner will be announced and credited in a social media announcement from the financial literacy program on all available platforms.

The financial literacy program will retain the right to use and reproduce the 1st place logo in all publications and media, including web and print publications, in perpetuity. 

No further compensation will be awarded to the winning artists past the award prizes.

Prizes will be awarded as follows: 

1st Place: $100 Amazon gift card

2nd Place: $50 Amazon gift card

3rd Place: $25 Amazon gift card
---
Event Announcement: Life 101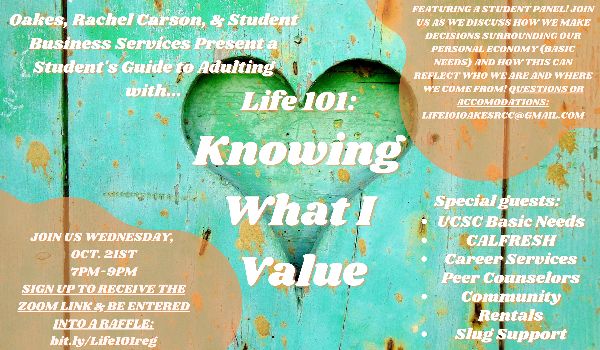 ---
GETTING STARTED WITH YOUR FINANCIAL AID PACKAGE 
A workshop focusing on how to budget your financial aid, including student loan information and tips 
View on Youtube here
Follow us on social media to get word of upcoming workshops and events @UCSCSlugCents
---


GETTING STARTED 
WITH YOUR FINANCIAL AID 
PACKAGE 
A workshop focusing on how to budget your financial aid, including student loan 
information and tips 
Oct 7 | 3 PM to 4 PM PT | Zoom Meeting ID: 972 7642 4617 Passcode: 016344 
Register here for the Zoom link and workshop information http://bit.ly/slugcentsws
Hosted by SlugCents 
Financial Literacy 
Speakers: Victoria Lipscomb and Pat Kelly
---