News
---
SlugCents is partnering with FoolProof, a nonprofit financial education platform, to launch a pilot triage survey program focused on identifying student financial pressures. All frosh and new transfer students will be sent emails requesting their participation from IRAPS beginning October 5, 2021. 
Who is going to be a part of this pilot? 
Frosh and new transfer students of Fall '21 will be asked to participate. Those who are qualified to participate will be sent emails regarding their participation. The first survey will be open from October 5th to October 22nd.
How is the pilot program set up? 
The pilot program is split into two main parts: one survey now (October 2021) and one survey at the end of the student's second year at UCSC. The second survey date has not yet been determined. In between the two surveys, students are encouraged to participate in SlugCents' programming, but that is not a requirement of participation. 
Both surveys will be identical and will be administered by FoolProof and sent to students by IRAPS. Each survey will ask questions on student personal finances, including financial education and financial pressures. At the end of each survey, an algorithm will analyze each student's survey response to recommend appropriate financial education modules. Completion of recommended modules is suggested, but completion of the modules is not a requirement of participation. 
What personal identity information (PII) is collected, and who has access to the information from my survey? 
Participation in the pilot program is confidential. The only PII collected is your student ID number. FoolProof does not host or retain any information from survey responses; all data is sent directly to IRAPS. 
How is the survey data used? 
The survey will be used in four different ways. 
An algorithm built into the survey will recommend financial education modules to each student when they submit their responses. 

SlugCents will use the results to look for trends in student financial pressures. This data will allow us to offer relevant programming to reduce financial stress. 
After both surveys are completed, this data will be used to
Evaluate the effectiveness of SlugCents in reducing financial pressures 

Measure and predict campus retention rates in correlation to financial pressures
Why is this important? 
Financial pressure is the number one reason students withdraw from school before graduation. Financial pressure includes not having financial support, being unable to take on loans, having difficulties understand the cost of school, and more. The surveys and program will allow us to have a better understanding of the financial pressures students at UCSC face. This will, in turn, allow us to provide services that can relieve this financial pressure and reduce students' risk of leaving school due to finances.
What do I get for participating in the survey? 
Participation is voluntary, and we thank you for taking the time to complete the survey! You will learn more about your own financial pressures and have access to modules recommended for your unique financial situation. 
What is SlugCents? 
SlugCents is the campus financial literacy program. The mission of SlugCents is to provide all students with equal access to financial resources so they can understand the UCSC financial system, make informed decisions about planning for higher education, graduate with as little debt as possible, and learn lifelong skills. 
SlugCents offers financial information, workshops, resources, and other programming to all UCSC students, including alumni and students taking a leave of absence. 
What is FoolProof?
The FoolProof Initiative is a project by the FoolProof Foundation that teaches consumer life skills and healthy skepticism to consumers. It teaches consumers to question anyone who wants to impact their money or welfare. SlugCents partners with FoolProof to offer UCSC students online financial education through FoolProof's modules on 16 personal finance topics. 
What is IRAPS? 
The Office of Institutional Research, Assessment, and Policy Studies at UC Santa Cruz is actively engaged in conducting a strategic survey research program that includes participation in nationally-developed survey projects and the development and administration of locally-developed survey instruments. These survey activities are part of the university's commitment to institutional effectiveness and improvement.
---

Join us for a tax webinar! Register at bit.ly/ucsctax21. A recorded session with captions in English and Spanish will be available on Youtube after the webinars. Please email slugcents@ucsc.edu with any accommodations or questions.
---
SlugCents Logo Contest
Student Business Services' new financial literacy program, SlugCents, needs a logo. This logo will be used in branding for the financial literacy program on all web and print media. We are inviting all UCSC students to enter into our logo design contest. Awards will be given to the top three designs.
The logo should be representative of UCSC and it's values. Incorporating images such as the banana slug or financial elements is suggested but not required. We encourage creativity! Below are some examples of financial wellness logos and UCSC logos for inspiration.

Image Descriptions: Monarch Millionaire logo, Boiler Financial Track logo, Fiat Slug logo, UCSC Astrophysics logo, UCSC Animation Club logo
Contest Rules: 
The contest will run from 10/1/2020 to 10/23/2020. 

Entries will be submitted to a Google Form. Submit your entry here.

Only one entry per student will be accepted.

Entrants must be current UCSC students.

All entries must be school appropriate, with no foul language or depiction of drugs, alcohol, or illegal activities. 

Vector images are preferable for submission. If the 1st place logo is not in a vector format at the time of submission, Student Business Services will ask for access to the original image files to create a vector image. 

After the submission portal is closed, the judging committee will take one week to review the entries and choose the top three winners. 

The judging committee and SlugCents reserve the right to not use any entries for the SlugCents logo if they do not deem the winning entries appropriate for SlugCents.

The three winners will be notified by email of their prize and how to collect it. 

The 1st place winner will be announced and credited in a social media announcement from the financial literacy program on all available platforms.

The financial literacy program will retain the right to use and reproduce the 1st place logo in all publications and media, including web and print publications, in perpetuity. 

No further compensation will be awarded to the winning artists past the award prizes.

Prizes will be awarded as follows: 

1st Place: $100 Amazon gift card

2nd Place: $50 Amazon gift card

3rd Place: $25 Amazon gift card
---
Event Announcement: Life 101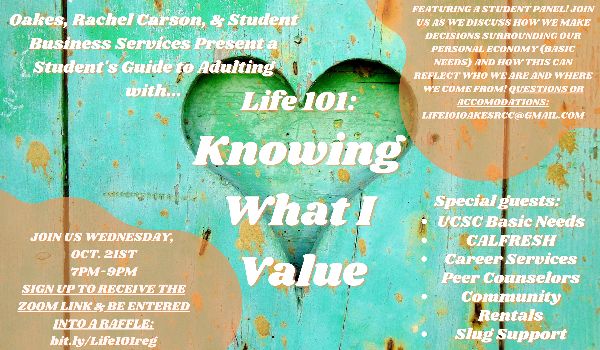 ---
GETTING STARTED WITH YOUR FINANCIAL AID PACKAGE 
A workshop focusing on how to budget your financial aid, including student loan information and tips 
View on Youtube here
Follow us on social media to get word of upcoming workshops and events @UCSCSlugCents
---


GETTING STARTED 
WITH YOUR FINANCIAL AID 
PACKAGE 
A workshop focusing on how to budget your financial aid, including student loan 
information and tips 
Oct 7 | 3 PM to 4 PM PT | Zoom Meeting ID: 972 7642 4617 Passcode: 016344 
Register here for the Zoom link and workshop information http://bit.ly/slugcentsws
Hosted by SlugCents 
Financial Literacy 
Speakers: Victoria Lipscomb and Pat Kelly
---